Custom Made Stained Glass Windows & Doors , Architectural, Decorative & Restoration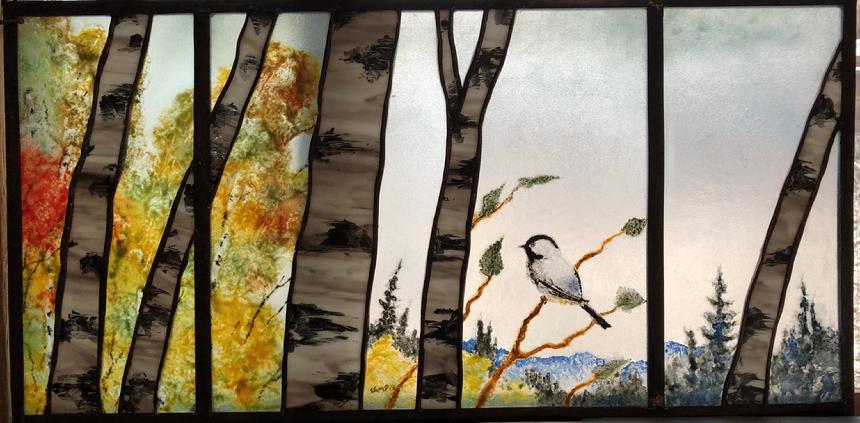 A recent nature inspired piece. Stained glass, fused with fired paint then fabricated with traditional & Tiffany techniques.
fused glass with casted details

Made with fused and painted glass details.

A nice addition to a cabinet door or entry way.

This piece allows light to pass through yet

obscures enough for privacy.



| | |
| --- | --- |
| sidelights, transoms and more. | Summer Birches |
stained glass detail

My stained glass is made with ancient techniques as well as contemporary methods.
I have invented ways to manipulate and enhance the glass by kiln firing . A combination of paint glass powders and frits are fused onto stained glass to acheive special effects and details. Custom windows,doors, cabinet inserts and lighting fixtures are a specialty of the studio.

What sets my stained glass apart is my passion for the landscape in art. I call this work Glass Scapes. Many of my works are derived from my paintings and experiences with nature.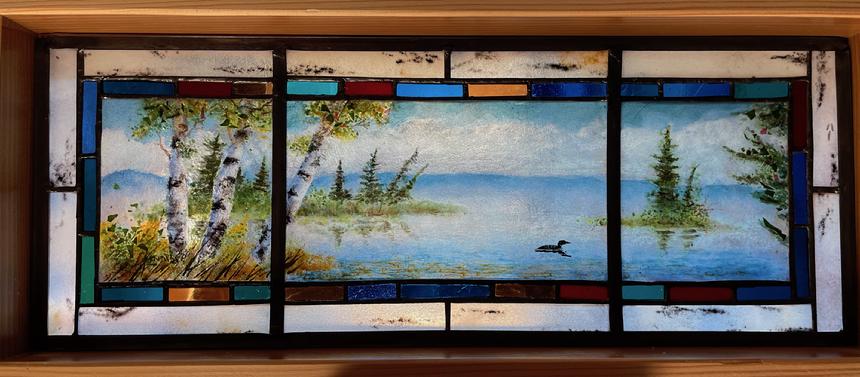 fused glass & stained glass tansom, birch, lake & loon
| | |
| --- | --- |
| Trout -fused glass | I utilize the glass as a brush stroke as if I am painting with glass. The works are used to enhance windows, doors, sidelights and other architectural elements in homes and places of business. |
Fused Glass Sconce

My lighting incorporates many glassworking techniques .

Realsitic scenes from nature portrayed in layers of fused, painted and fired glass.

Sometimes I slump and bend the glass for design.

Details and metal work are casted from nature .









| | |
| --- | --- |
| Most of my "Glass Scapes" start with a sketch . The sketch goes through stages of develpopment and eventually becomes a refined blueprint to work from. This creative stage is critical as it serves as a roadmap to the end work. It gives the client a feel for what the finished work will look like. Types of glass and construction methods are also decided at this point. | fused glass chickadee |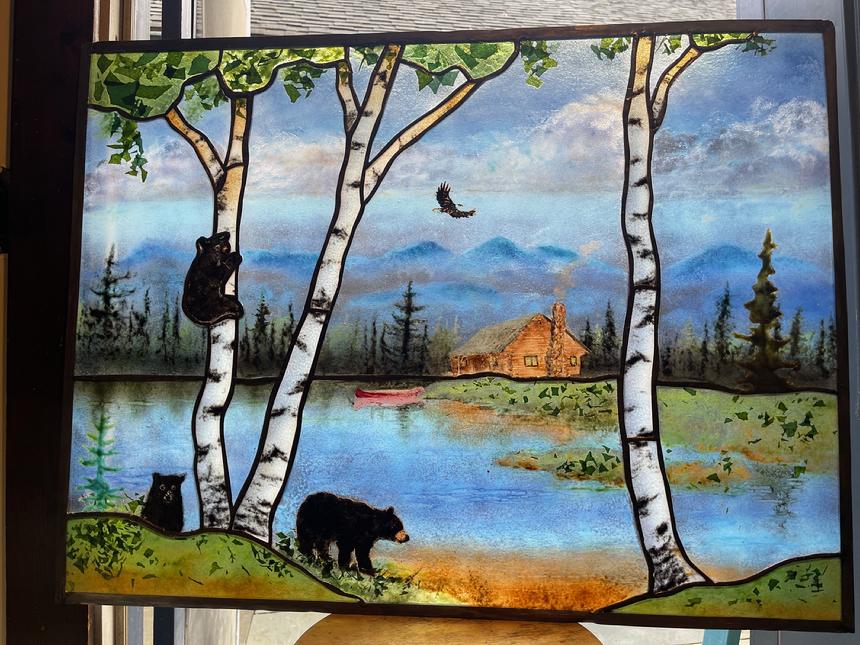 Three Bears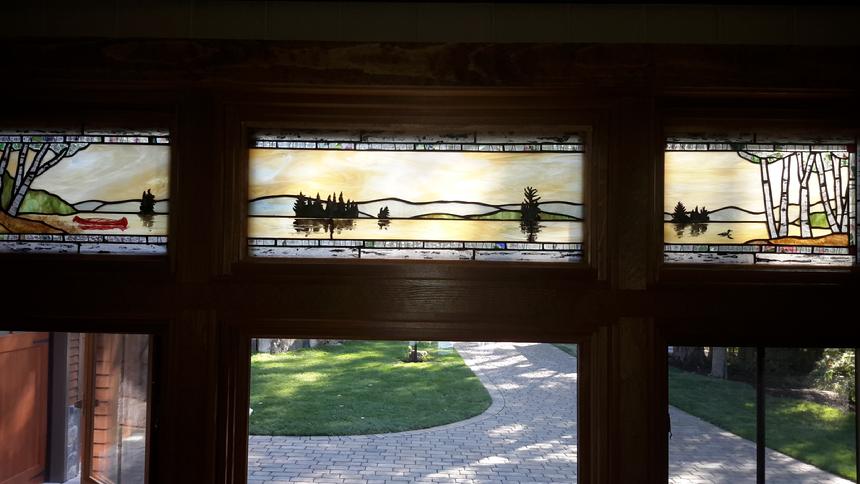 Lake George NY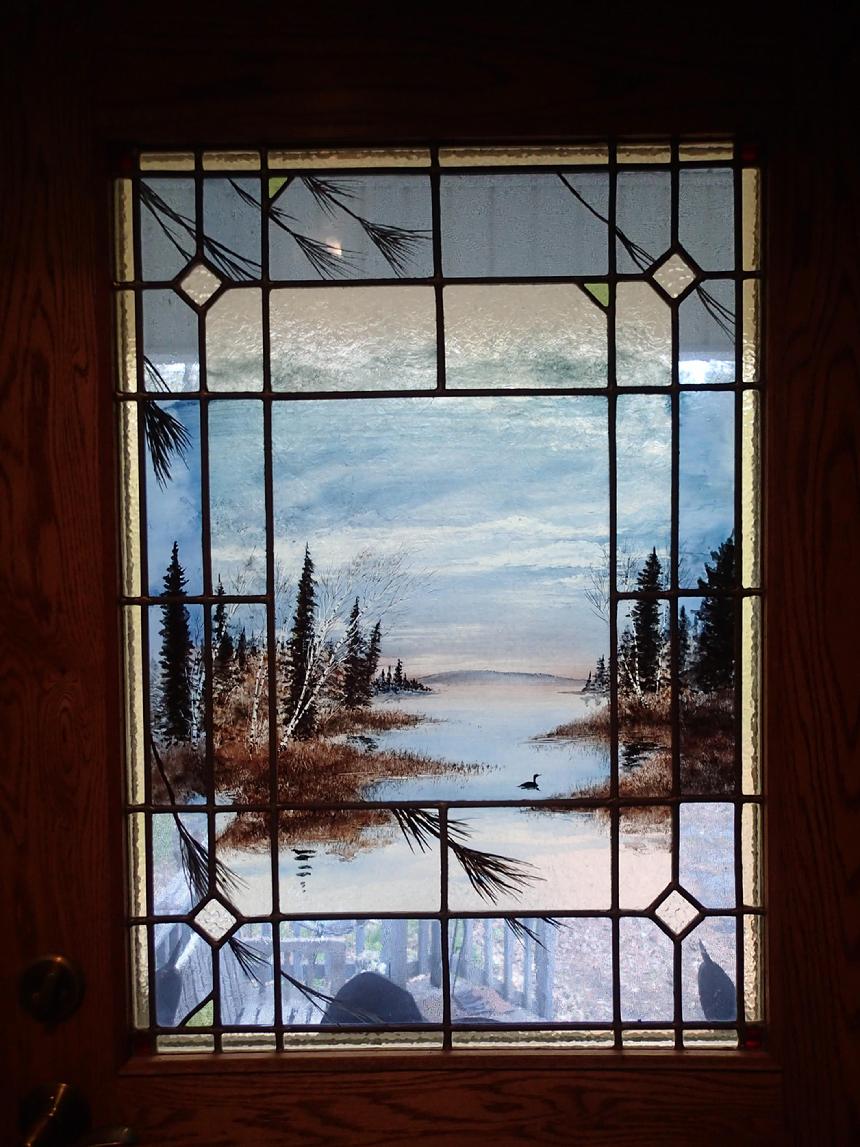 This is a front entryway made with layers of fired enamels and leaded with traditional techniques.
| | |
| --- | --- |
| Abanakee Indian | a divider between rooms |
NEW! These Stained Glass hangings sparkle and shine. Made with Tiffany fracture streamer glass and a hand painted and kiln fired translucent opalescent. Trimmed with copper and birch to create an organic design.
Thank you, please visit again as I am always working on something new