Custom Made Stained Glass Windows & Doors , Architectural, Decorative & Restoration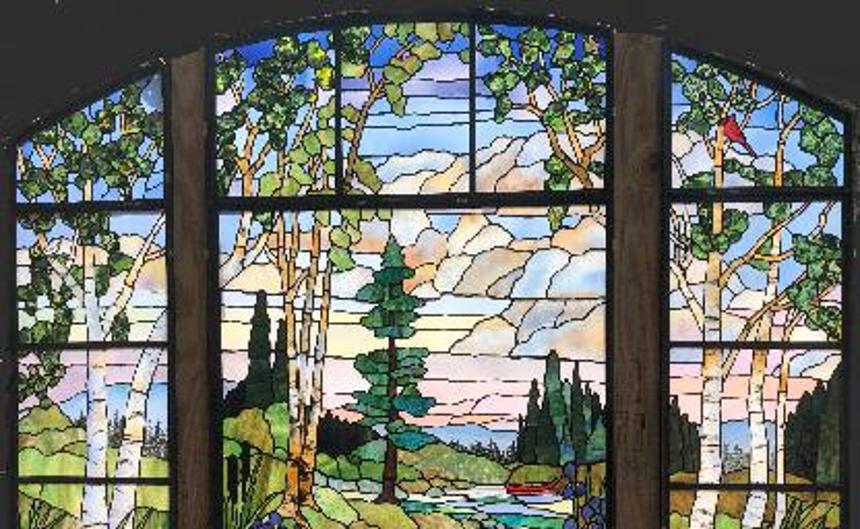 Glass Scape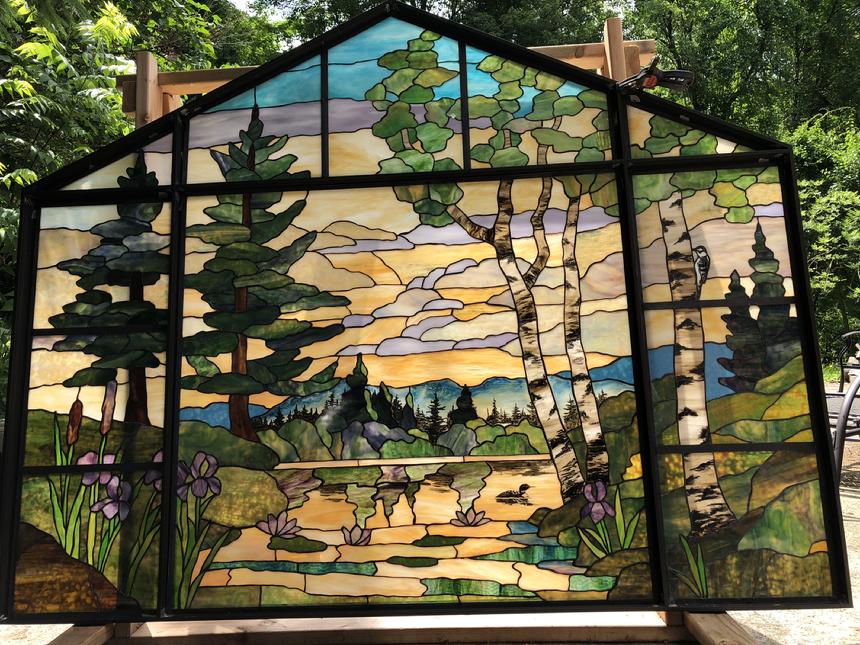 Glass Scape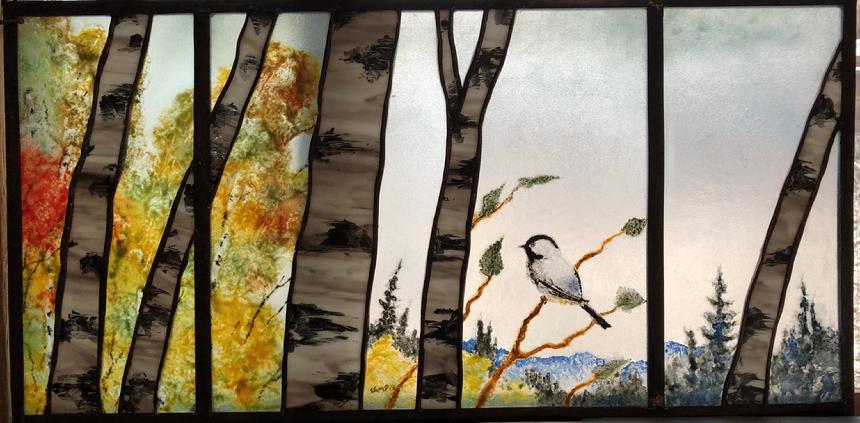 A recent nature inspired piece. Stained glass, fused with fired paint then fabricated with traditional & Tiffany techniques.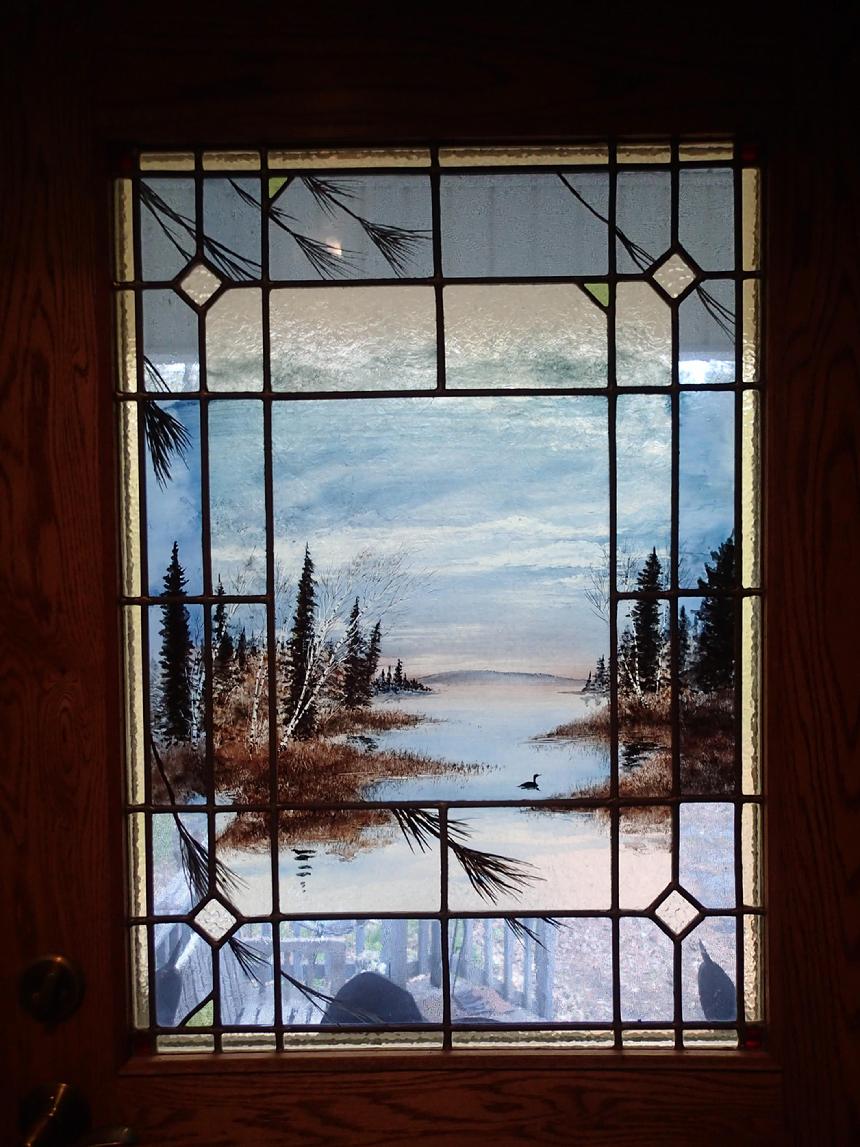 This is a front entryway made with layers of fired enamels and leaded with traditional techniques.
fused glass with casted details

Made with fused and painted glass details.

A nice addition to a cabinet door or entry way.

This piece allows light to pass through yet

obscures enough for privacy.



Fused Glass Sconce

My lighting incorporates many glassworking techniques .

Realsitic scenes from nature portrayed in layers of fused, painted and fired glass.

Sometimes I slump and bend the glass for design.

Details and metal work are casted from nature .









| | |
| --- | --- |
| sidelights, transoms and more. | North Country Morning |
| | | |
| --- | --- | --- |
| deal from a larger window | fused and fired details | wildlife detail |
This is a front entryway, wow!

My stained glass is made with ancient techniques as well as contemporary methods.
I have invented ways to manipulate and enhance the glass by kiln firing . A combination of paint glass powders and frits are fused onto stained glass to acheive special effects and details. Custom windows,doors, cabinet inserts and lighting fixtures are a specialty of the studio.

What sets my stained glass apart is my passion for the landscape in art. I call this work Glass Scapes. Many of my works are derived from my paintings and experiences with nature.




This little detail shows the natural colors and forms typical of one of my pieces. It is a study for a larger commission. I expect to complete in the spring of 2018 . Please stop back to check on the progress.

It's all in the detail. Painting, enamaling and kiln firing of the glass

create a sense of depth and color.

I incorporate many ancient and contemporary

glass working techniques in my work. These are inspired by the great Tiffany windows of the turn of the last century.



| | |
| --- | --- |
| Red Canoe Lake Scene | To create a "Glass Scape" takes many hours of crafting. I often refer to my paintings and landscape studies for ideas. After the design is finalized the glass is selected , cut , painted and some pieces kiln fired. The glass is then fabricated and leaded in the Tiffany tradition. I use hand rolled American glass and visit the factory to select glass that has the right density and blended color combinations. I utilize the glass as a brush stroke as if I am painting with glass. The works are used to enhance windows, doors, sidelights and other architectural elements in homes and places of business. |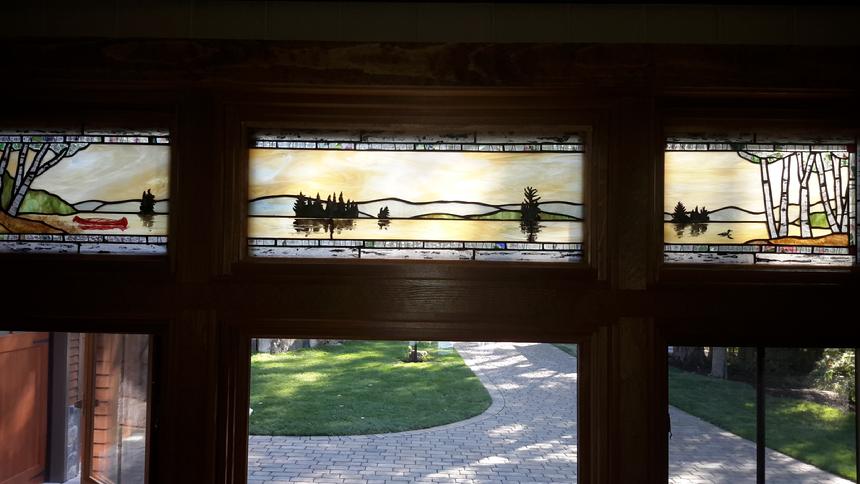 Lake George NY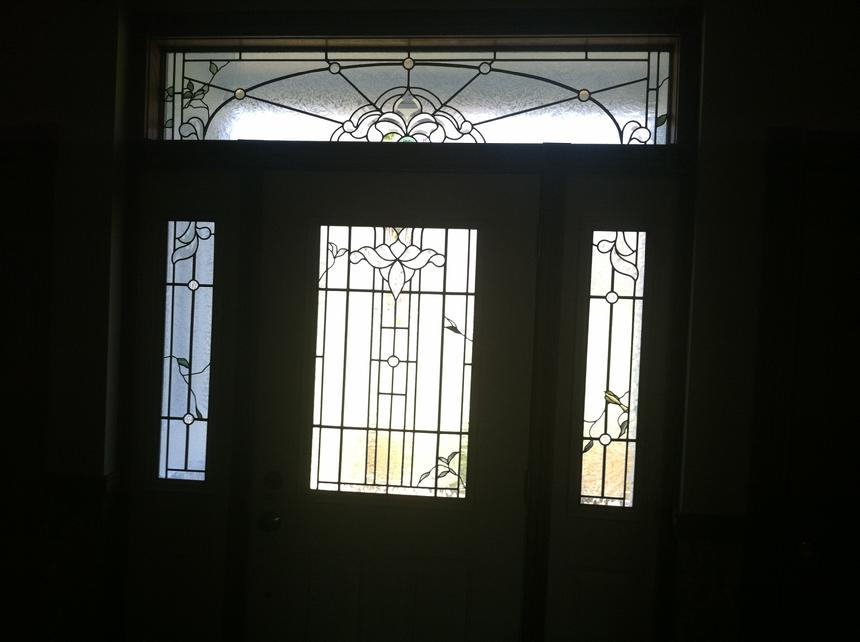 Custom Entryways / Beveled and Textured Glass
| | | |
| --- | --- | --- |
| notice the detail ,leaves ,vines and birds | various line profiles | a little bird on a branch to greet guests as they enter |
| | |
| --- | --- |
| Double hung window , textured glass assures privacy and lets light in | This window is installed inside over thermopane glass. The exterior mullions are matched on the interior. Special perimeter methods secure the glass fit and tolerances around the window locks. Nice for a bathroom . |
| | |
| --- | --- |
| Arts & Crafts Style Entryway | Detail-notice the various profile and soft textures with subtle color |
| | |
| --- | --- |
| Interior Partition Doors , Sidelights, Transom | Arts & Crafts Style Entryway |
| | |
| --- | --- |
| A soothing scene comes to life captured in textured glass with layers of enamel kiln fired into the glass | |
| | |
| --- | --- |
| A Tiffany Style Approach | Detail Of Tiffany Style Pictorial |
| | |
| --- | --- |
| Most of my "Glass Scapes" start with a sketch . The sketch goes through stages of develpopment and eventually becomes a refined blueprint to work from. This creative stage is critical as it serves as a roadmap to the end work. It gives the client a feel for what the finished work will look like. Types of glass and construction methods are also decided at this point. | Another "Glass Scape " In The Making |
| | |
| --- | --- |
| Abanakee Indian | a divider between rooms |
| | |
| --- | --- |
| Hand Painted Stained Glass Chickadee | Fly Fisherman |
NEW! These Stained Glass hangings sparkle and shine. Made with Tiffany fracture streamer glass and a hand painted and kiln fired translucent opalescent. Trimmed with copper and birch to create an organic design.
Thank you, please visit again as I am always working on something new